POLYMATHIC PRESENTS
FIXED ASSETS
Basic Product Information
Version:
5.0
Publisher:
Polymathic Computer Corporation
Address:
100-245 Yorkland Blvd.
Toronto, Ontario M2J 4W9
Tel:
(416) 490-8010
Fax:
(416) 490-8275
Copyright held by:
Polymathic Computer Corporation
Trademark held by:
Polymathic Computer Corporation
Operating Systems:
Windows Server 2019 64-bit
Windows Server 2016 64-bit
Windows Server 2012 64-bit
Windows Server 2008 64-bit
Windows Server 2008 32-bit
Windows Server 2003 64-bit
Windows Server 2003 32-bit
Windows 7 64-bit
Windows 7 32-bit
Windows Vista 64-bit
Windows Vista 32-bit
Windows XP
Windows 98
Windows NT
Novell
MS-DOS
Minimum Memory:
512MB
Overview
The Fixed Asset System is designed to reduce the time and effort involved in maintaining the necessary information for depreciation assets. The following features are available:
two methods of depreciation are available:

straight-line

declining balance

depreciation on each asset is calculated for book or tax purposes,

fields are provided for the location of each asset, serial numbers, investment tax credits, insurance and property classes,

the system allows for multiple locations, departments and classes of assets,

the depreciation expense and accumulated depreciation for each asset can be viewed on the screen,

the system will ensure that the accumulated Net Book Value does not exceed the cost of the asset,

depreciation is calculated by asset category to aid in general ledger accounting,

reports are available detailing asset additions and dispositions for the fiscal year to help in preparation of tax returns,

a report writer can be purchased separately to aid in creating customized reports.
As with all Polymathic software the Fixed Assets system features password protection, unlimited file sizes and multi user/company capabilities.
Customer support is available via telephone, fax, electronic mail and through our bulletin board.
Fixed Asset Input Screen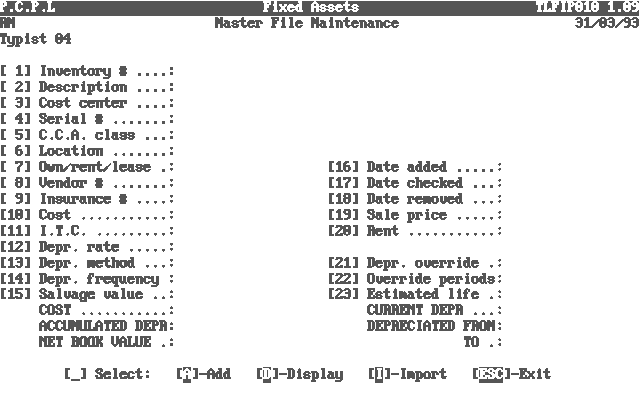 Fixed Asset Report Screen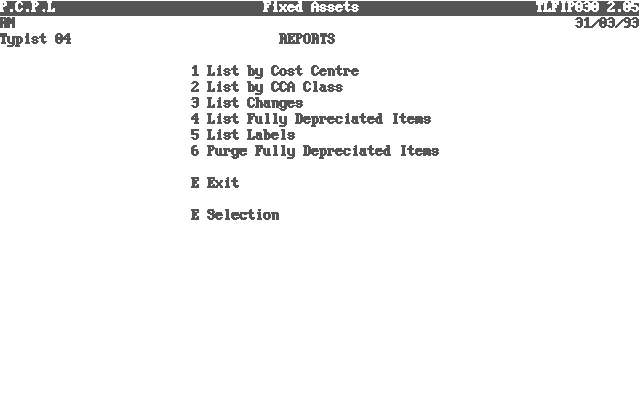 List By Cost Centre


DATE 30/04/95                             TEST STEEL COMPANY                                       TQFIR031 2.03
                                 FIXED ASSETS IN COST CENTRE SEQUENCE
COST CENTRE 1900                       ALL ITEMS UP TO 30/04/95                                           Page 1

 INV.
NUMBER    DESCRIPTION        SERIAL NUMBER     LOCATION          CAPITAL       -----------DEPRECIATION----------
                                                                 COST          TODATE   RATE    MTD  FR     TO

     1    SIGNATEL BOX       A967894-1234      HEAD OFFICE         369.15      369.15  1.000      M   M    04/95
     2    RADIO SHACK II     121779            HEAD OFFICE        6040.15      6040.15 1.000      S   M    04/95
     2 ITEMS                                                      6409.30

                                                                                     6409.30


** Each Cost Centre starts on a new page **


SUMMARY PAGE:

 INV.
NUMBER    DESCRIPTION        SERIAL NUMBER     LOCATION          CAPITAL       -----------DEPRECIATION----------
                                                                 COST          TODATE   RATE    MTD  FR     TO

1900      2 ITEMS                                                 6409.30
                                                                               6409.30

   2                                                              6409.30
                                                                               6409.30
   End of report


List By CCA


DATE 30/04/95                             TEST STEEL COMPANY                                       TQFIR032 2.03
                                       FIXED ASSETS BY CCA CLASS
CCA CLASS 10                           ALL ITEMS UP TO 30/04/95                                           Page 1

 INV.
NUMBER    DESCRIPTION        SERIAL NUMBER     LOCATION          CAPITAL       -----------DEPRECIATION----------
                                                                 COST          TODATE   RATE    MTD  FR     TO

     1    SIGNATEL BOX       A967894-1234      HEAD OFFICE         369.15      369.15  1.000      M   M    04/95
     2    RADIO SHACK II     121779            HEAD OFFICE        6040.15      6040.15 1.000      S   M    04/95
     2 ITEMS                                                      6409.30
                                                                               6409.30


                                                                               6409.30


** Each Cost Centre starts on a new page **


SUMMARY PAGE:

 INV.
NUMBER    DESCRIPTION        SERIAL NUMBER     LOCATION          CAPITAL       -----------DEPRECIATION----------
                                                                 COST          TODATE   RATE    MTD  FR     TO

    10    2 ITEMS                                                 6409.30
                                                                               6409.30

   2                                                              6409.30
                                                                               6409.30
   End of report


List Changes


TESTQUAL   - FIXED ASSET INVENTORY ADDITIONS
( 1) INVENTORY #   123456                ( 5) CATEGORY   10
( 2) AUDI 5000
( 3) COST CENTRE   1900                  ( 6) LOCATION
( 4) SERIAL#       A967894-1234               TORONTO, ONTARIO


( 7) OWN/RENT/LEASE    O                 (15) DATE ADDED        26  8 87
( 8) VENDOR #           3110             (16) DATE CHECKED      26  8 87
( 9) INSURANCE #        8600             (17) DATE REMOVED
(10) COST                25000.00        (18) SALE PRICE               .00
(11) DEPR. RATE         2.5000           (19) RENT                   .00 /
(12) DEPR. METHOD      S
(13) DEPR. FREQ.       M                 (20) DEPR. OVERRIDE         .00
(14) SALVAGE VALUE            .00        (21) OVERRIDE PERIODS   0


Fully Depreciated Assets


DATE 30/04/95                             TEST STEEL COMPANY                                       TQFIR034 2.03
                           FULLY DEPRECIATED ITEMS IN COST CENTRE SEQUENCE
COST CENTRE 1900                                                                                          Page 1

 INV.
NUMBER    DESCRIPTION        SERIAL NUMBER     LOCATION          CAPITAL       -----------DEPRECIATION----------
                                                                 COST          TODATE   RATE    MTD  FR     TO

     1    SIGNATEL BOX       A967894-1234      HEAD OFFICE         369.15      369.15  1.000      M   M    04/95
     2    RADIO SHACK II     121779            HEAD OFFICE        6040.15      6040.15 1.000      S   M    04/95
     2 ITEMS                                                      6409.30


                                                                               6409.30



SUMMARY PAGE:

 INV.
NUMBER    DESCRIPTION        SERIAL NUMBER     LOCATION          CAPITAL       -----------DEPRECIATION----------
                                                                 COST          TODATE   RATE    MTD  FR     TO

      2                                                           6409.30
                                                                               6409.30
   End of report




Fixed Assets Label


163 PORTABLE COMPUTER - 256K

2010-10